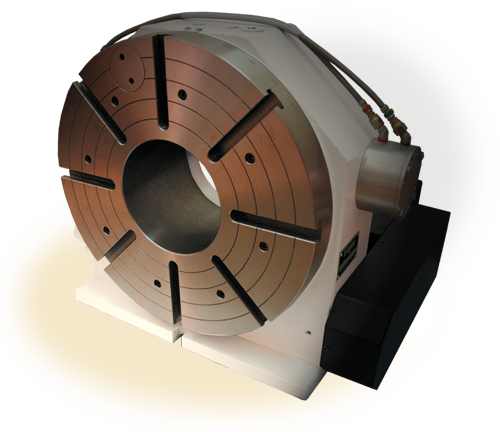 The Troyke DL Series 4th axis precision rotary tables range in size from 6.5" to 25" diameters. The DL Series Rotary Tables feature a rigid rotary table design that can be mounted horizontally or vertically. These heavy-duty Troyke rotary tables are interfaced to the machine control as a rotary indexer or full 4th axis and offer a variety of tooling and work holding options.
Standard Features:
8 sizes (6.5" - 25" table diameters).
Dual lead worm set simplifies backlash adjustment.
C907 bronze worm gear and hardened and ground worm shaft running in a bath of oil. (80-90 weight gear oil)
High precision spindle bearings.
Turcite bearing surface.
Internal pneumatic brake, solenoid valve actuated, (24vdc or 110vac) monitored by a pressure switch.
(16.5", 20", & 25" dual rack & pinion).
Precision ground surfaces.
Optional Features:
Chucks - (Manual or Pneumatic)
Collet fixtures - (Manual or Pneumatic)
Tailstocks - (Manual or Pneumatic)
Single Axis programmable control
Clamping outboard supports (Air. or Hyd.)
Ball lock™ sub plate and fixture plate
Cables - for interfacing to machine tool
Compatible with all standard servo motors
Oversize thru hole available on most sizes.
Direct mount feedback (Heidenhain scale for accuracy up to +/- 2 arc seconds)